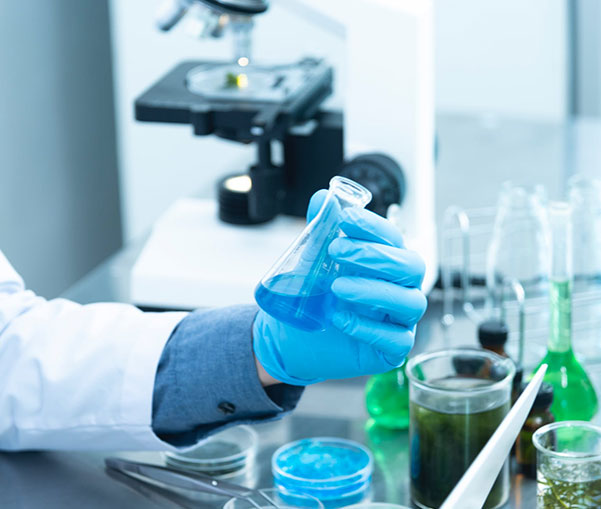 Overview
The Department of chemistry was established in the year 1997. The Under Graduate and Post Graduate programmes were instituted in 2017 and 2019 respectively.
The department inculcates good research culture and motivates the students for product development in order to meet out the expectations of the current scenario with their best performance. We have a dedicated team of faculty to enrich the knowledge capacity of the students.
Most of the faculty members have obtained their Ph.D. degree from the well reputed Universities/Institutes with significant years of teaching and research experience in various frontier research areas like Bio-inorganic chemistry, Organometallic Chemistry, Synthetic organic chemistry, Green chemistry, Crystallography, Coordination chemistry, Computational Chemistry, Nano Chemistry, Polymer Chemistry, Electrochemistry, Phytochemistry, etc.
Courses
Eligibility
H.S.C. Passed with Mathematics, Physics and Chemistry
Eligibility
B.Sc. Chemistry with Physics/ Mathematics/ Zoology/Botany as one of the allied Subjects/ B.Sc. Polymer Chemistry
Vision
To make the department as a centre of excellence in quality research and to ensure better education to its prospective learners to become a professional scientists.
Mission
To offer updated and enhanced, experiential teaching and learning through innovative methodology and to instill firm moral, ethical values among the graduates.
Academic Activites (2022-23)
Guest Lecture/Invited Lecture
S. No.

Date

Name and Designation of the Resource Person

Topic

Venue

Beneficiary

1
10-Sep-22
Dr. T. Suresh
Assistant Professor, Department of Chemistry, Bharathiar University, Coimbatore - 46
Organic Natural Products
AV room A1 218
III B.Sc, I & II M.Sc
2
29-Aug-22
Dr. M. Karunanidhi
Assistant Professor, Department of Chemistry, Government Arts College, Coimbatore - 126
Quantum Chemistry
Seminar Hall 1
III B.Sc, I & II M.Sc
Seminar /Workshop Conferences organized
S. No.

Date

Nature of the Event (Conference/ Seminar/ Workshop )

Number of External Participants

Title of the Event

Name & Designation of the Speakers

1
24-May-22 to 26-May-22
FDP
-
Emerging Chemical Research and Technologies
Dr. N. Muthulakshmi Andal,
Assistant Professor of Chemistry, PSGR Krishnammal College for Women, Coimbatore

Dr. S. Meenakshi,
Professor of Chemistry, Gandhigram Rural Institute, Dindigul

Dr. A. Thangamani,
Associate Professor of Chemistry, Karpagam Academy of Higher Education, Coimbatore

Dr. V. Shobana,
Assistant Professor of Chemistry, Avinashilingam Institute for Home Science and Higher education college for women, Coimbatore
Staff Publication
S. No.

Name of the Faculty

Title

Journal Name

ISSN / ISBN No. Date of publishing / Vol. No.

Impact Factor

SCI/WoS/UGC/SSCI/Scopus

1

Dr. R. Rajkumar

Important roles of Cyclic Di Keto Compounds to one pot synthesis of Nitrogen heterocyclic systems

International Journal of Creative Research thoughts

ISSN: 2320-2882
Jul-22
Volume 10, Issue 7

-

UGC

2

Dr. R. Menaka

Eco-friendly chitosan vanillin Schiff base as anti-corrosive agent for mild steel in 1 M HCl and as scale inhibitor for CaCO3

Journal of Adhesion Science and Technology

ISSN: 1568-5616
27-Apr-2022
DOI: 10.1080/01694243.2022.2066401

2.077

SCI
Students Counseled
| | | |
| --- | --- | --- |
| S. No. | Name of the class | Number of Students |
| 1. | I B.Sc, II B.Sc, III B.Sc, I M.Sc, II M.Sc | 147 |
Book Publications
S. No.

Date

Name of the staff

Name of the Book

Name of the Publisher

1
10-Aug-2022
Dr. R. Menaka
Polymeric Corrosion Inhibitors for Greening the Chemical and Petrochemical Industry
Wiley-VCH GmbH, Weinheim, Germany
ISBN: 978-3-527-34992-0
Archive (2015-2022)
B.Sc. Chemistry
PROGRAMME EDUCATIONAL OBJECTIVES
The Curriculum is designed to attain the following learning goals which students shall accomplish by the time of their graduation:
To understand the interdisciplinary nature of Chemistry and to integrate knowledge of Mathematics, Physics and other disciplines to a wide variety of chemical problems.
To enable the students to learn laboratory skills to design, safely conduct and interpret chemical research.
To develop the ability to effectively communicate scientific information and research results in written and oral formats.
To provide a broad foundation in Chemistry that stresses scientific reasoning and analytical problem solving with a molecular perspective.
To make students learn professionalism, including the ability to work in teams and apply basic ethical principles.
PROGRAMME OUTCOMES
On the successful completion of the programme, the following are the expected outcomes
| PO Number | PO Statement |
| --- | --- |
| P01 | Apply knowledge in scientific concepts, fundamental principles and varied theories to extend their relevance in day-to-day life. |
| P02 | Build the foundation in the current trends of chemistry with experimental skills |
| P03 | Make use research based knowledge in multidisciplinary approaches. |
| P04 | Extend the role and need of the chemist in societal, environmental contexts and demonstrate the knowledge for sustainable development. |
| P05 | Plan and organize as a member or leader in the diverse team and ability to engage in independent life – long learning in the broadest context of technological change. |
M.Sc. Chemistry
PROGRAMME EDUCATIONAL OBJECTIVES
The Curriculum is designed to attain the following learning goals which students shall accomplish by the time of their graduation:
To build the firm foundation in the fundamentals and correlate the application with the current developments in chemistry.
To get sufficient expertise in the operational knowledge and laboratory skills in all major fields of chemistry.
To emphasize on integrating various disciplines of Science and encourage for interdisciplinary approach.
To acquire problem solving capacity, interpretation of results with the use of sophisticated instruments and devises new preparation techniques.
To motivate the students to prepare for competitive examinations, job carriers and get trained for industrial entrepreneurship.
PROGRAMME OUTCOMES
| PO Number | PO Statement |
| --- | --- |
| P01 | Make use of knowledge in the major fields of Chemistry which would make them to analyze the significant role played in the field of energy, materials, health sector and environment. |
| P02 | Select the appropriate modern scientific instruments, to plan and execute in laboratory. |
| P03 | Interpret the Knowledge and skills to develop independent writing reports and to execute the ideas. |
| P04 | Take part in research- based knowledge in interdisciplinary approach including design of experiments, analysis and interpretation of data for Provide better solution in emerging issues. |
| P05 | Utilize the knowledge for social, economic, and environmental challenges globally and formulate for life –long learning in the broadest context of technological change. |
Students Achievements
Prizes Won in Paper Presentation/ Project Contest/Best Paper Award/Symposiums/Workshop
Date
Student Name
Event/Project Title
Organizer/ Venue
Prize/Awards/Cash
Academic Year 2018-2019
05-Sep-18
Keerthiga P S
Keerthiga V S
Connections
Dr. N. G. P. Arts and Science College, Coimbatore

III

28-Feb-19
S. Lavanya
Tamil Essay Writing
Dr. N. G. P. Arts and Science College, Coimbatore.

I

28-Feb-19
Keerthiga P S
Keerthiga V S
Drawing Competition
Dr. N. G. P. Arts and Science College, Coimbatore.

III

Academic Year 2017-2018
07-Aug-17
R. Ashokmithran
Tamil kavithai competition
Hindustan College of arts and science

I

08-Dec-17
R. Ashokmithran
Tamil kavithai competition
Dr.N.G.P Arts and Science College

I

17-Aug-17
R. Ashokmithran
CHEMFUSION'17
Sri Ramakrishna Mission Vidyalaya college of Arts and Science

III